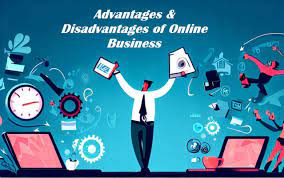 Advantages and Disadvantages of Online Business
Online business is a term that refers to any type of activity where goods and services are sold across the Internet. These activities include e-commerce, social media marketing and entrepreneurship. These activities can be conducted by individuals or companies.
Businesses that shift their operations online can reap many benefits. Some of these advantages are: global reach, flexibility and scalability.
Cost-effectiveness
Online businesses can save money by eliminating costs associated with physical stores, such as rent, utilities and inventory. Furthermore, a business can also reduce its marketing costs by using digital platforms to reach customers. Additionally, online business owners can collect data from their customers without having to travel or interact directly with them. This information is useful for the company and can help them improve their products and services.
Another advantage of online business is that it can be operated from anywhere, as long as there is an internet connection. This means that even the smallest businesses can reach customers worldwide. This makes it possible for companies to increase their sales by reaching a wider market.
However, there are some downsides to running an online business. For example, it can be difficult to build trust between customers and the business. In addition, the competition is fierce, so it's important to develop a good product and a viable sales model.
While the entry barrier to start an online business has been lowered, there is still a high risk of failure. Potential entrepreneurs must have a solid business idea and be prepared to work hard for their success. Nevertheless, if the right strategy is used, the rewards can be great. The key is to focus on the advantages and avoid the disadvantages of online business.
Reaching a wider audience
As an online business owner, you have the ability to reach a wider audience through your website. This can make a significant difference in your bottom line, especially if you sell products or services that are in demand across the globe. With 5.6 billion internet users worldwide, you can reach a massive customer base by establishing your brand online.
You also have the freedom to operate your business from any location with access to the internet. This makes it easier to conduct transactions and manage your business. Furthermore, it is possible to save on costs like renting a physical store or buying inventory because everything can be done from the comfort of your home. You can even reduce the amount of paperwork and works with online services that allow you to record and store sales, purchases, and product details in a virtual database.
Many people are looking for ways to generate income outside of their job, and online businesses can be a great way to do that. However, it's important to understand the pros and cons of an online business before starting one. Here are some of the top benefits of running an online business:
Flexibility
A successful online business requires a flexible approach to operations. As a result, businesses must be able to adjust their products and services in response to consumer demand, from inventory levels to shipping options. This flexibility allows businesses to adapt quickly and avoid a loss in revenue.
Flexibility is also important for employee retention. Companies that offer perks like work from home options and flexible schedules are more likely to attract the best candidates. These perks may not cost the company much, but they can make a significant difference to an employee's quality of life.
Another advantage of online business is that it does not have to absorb the high overhead costs of a physical store. These costs include expensive retail space, customer-facing staff, and various insurance policies. By eliminating these costs, e-commerce companies can reduce their operating expenses and offer lower prices to customers.
In addition, an online business can operate globally. In contrast, a brick-and-mortar store is typically only visited by people within a certain geographic area. The flexibility of online business is an essential advantage for any entrepreneur seeking to expand his or her market base. However, this flexibility comes with a few disadvantages. For example, some customers prefer to shake hands and speak with a person, rather than having to deal with email or bogged-down phone lines.
Time-saving
Ecommerce is a rapidly growing industry. In fact, it is predicted that ecommerce sales will reach $4.8 trillion by 2021. This is partly due to the COVID-19 pandemic, which has forced companies to shift their business operations online. But this change also offers businesses a number of advantages that can help them compete with their competitors.
In addition to cost-effectiveness, online businesses are scalable and can easily adapt to increased demand without the need for additional resources. For example, an online store can be staffed with bots and virtual assistants that can respond to customer inquiries in real time. In contrast, a physical store can have difficulty managing customers during peak hours and may not be able to handle the volume of orders.
Another advantage of an online business is its ability to collect data on customer behavior. This information can be used to improve marketing campaigns and optimize the customer experience. The digital nature of an online business also reduces the need for physical materials and commuting, making it environmentally friendly.
However, online business has its drawbacks, including less communication with customers and heavy competition. It is important for aspiring entrepreneurs to keep in mind the potential advantages and disadvantages of an online business before starting one. Then, they can decide whether or not this type of business is right for them.