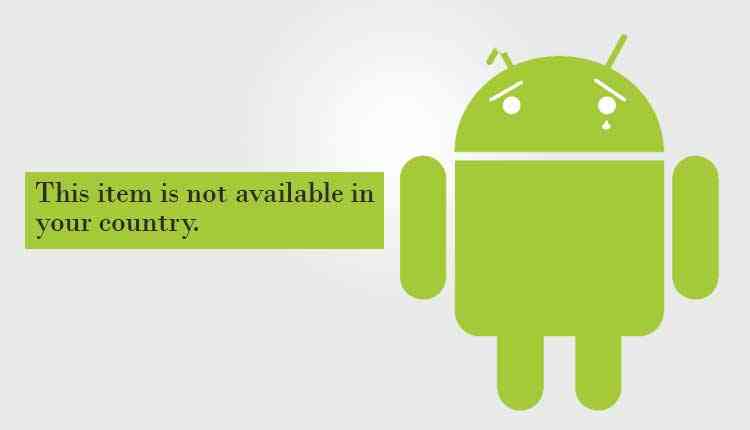 How to Get Around the "This Item isn't Available in Your Country" Error in Google Play Store
The "This item isn't available in your country" message can be extremely frustrating. It can show up when you try to download apps, music, movies and more.
Fortunately, there are several ways to get around this issue. The best option is to use a VPN. NordVPN is currently 68% off and makes this process quick and easy.
Change your country
Google Play Store apps can be restricted in different countries because of copyright restrictions or for other reasons. However, there are several ways to bypass these restrictions and access content that might be unavailable in your country. You can try to change your country, use a VPN, or create a new profile. If you cannot change your country, you can also contact the developer to see if they will add support for your device.
To change your country, go to the Google Play Store menu, and then tap three stacked lines. From there, you can select 'Account,' then 'Country and profiles' to view your Google Play account settings. Then, choose the country you want to switch to and follow the prompts to add a payment method.
Once you have done this, the country change will take effect within 48 hours. Once the change is complete, you can access all the apps, games, and other content that are available in your selected country. It's important to note that you can only change your country once per year, so be sure to verify the new location before downloading any content.
The only downside to this method is that you will need a payment method in your new country. This can be a hassle if you're traveling for a few weeks or longer, and it's not worth it if you plan on moving to a different country permanently.
Change your IP address
An IP address (Internet Protocol) is a unique identifier that tells devices on the internet what country you are in. It also shares your location so that websites and apps can provide you with the most relevant content. If you're traveling abroad, changing your IP address can help you get around geo-blocking.
You can change your IP address by opening the Google Play Store app and clicking settings. From there, you can create a new profile with your preferred country. You'll need to clear your cache and wait an hour for your new profile to work.
Another option is to use a VPN service that can change your country. However, this method isn't healthy for your device and may violate the terms of some apps. For this reason, it's best to avoid using it unless absolutely necessary.
VeePN has a dedicated section on its website that provides information about different VPN services. You can check out the reviews of some of these services to make an informed decision. The company also has a free trial period for its users, so you can test the service before making a purchase. If you're not satisfied with the results, you can always cancel your subscription. In addition, VeePN's terms of service state that you can only use its service for legitimate purposes.
Use a VPN
There is a way to bypass the "This item isn't available in your country" error message in Play Store. By using a VPN, you can change your virtual location and access content from another region without rooting your phone or tablet. VPNs are secure, fast, and easy to use, and they can help you bypass geographic restrictions on Google Play Store apps and games.
To change your Play Store country, install a VPN on your device and connect to a server in the country where you want to switch to. You can choose from a wide variety of servers, and you can connect to multiple servers at once to change your virtual location as often as you want. If you are worried about privacy, choose a VPN that has strong encryption methods and a no-logs policy.
It's important to note that if you change your Play Store country, you won't be able to use your original country's payment methods in the new one. This is why it's best to only do this if you're planning on moving countries or staying in your current country for at least a year. If you do this, make sure to have a backup plan in case you're stuck in your new country with no way to get back home. Also, be aware that some apps won't be available in all regions due to content licensing restrictions.
Create a new profile
If you are having trouble downloading apps from the Play store, it may be because Google has blocked them due to country or region restrictions. The best way to work around this is to create a new profile. However, this method comes with some caveats. You will need to have an IP address from the country you want to use, a local mobile number, and a payment method on file. Additionally, you cannot change your country more than once every 12 months.
You can change your country using the Google Play Settings app on your Android device. Tap your profile icon at the top-right corner of the Play store and select "Settings." Then, click "Account" and then "Country and profiles." Select a country from the list that appears and follow the prompts to add a payment method. Note that this process can take up to 48 hours to complete.
You can also try changing your country via a VPN service, but this can be dangerous for your data. It can also make your phone more vulnerable to security threats and other problems. It is advisable to use a VPN that offers high speed and a wide range of locations. In addition, you should always use a secure password and avoid installing pirated apps. Moreover, you should only download APKs from reliable sites like APKMirror.