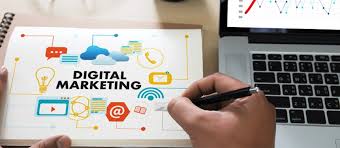 Career Scope of Digital Marketing
Digital marketing is a broad field that involves promoting products or services through online channels. It includes social media, online ads, email, and multimedia messages.
Digital marketers are responsible for creating and executing marketing strategies that attract customers to a brand's website or product. They also analyze data to identify opportunities for improvement.
Marketing Manager
Digital marketing is an increasingly vital part of many businesses. It allows businesses to target their target audience and make sales by leveraging online marketing channels like social media, email, search engines and websites.
A successful digital marketing manager needs to have a wide range of skills. They need to be familiar with various types of social media platforms, the best practices for promoting content and website analytics.
Another important skill for a digital marketing manager is people management. This is important because they need to keep track of all the team members involved in a campaign.
They also need to be able to manage their own time so that they can complete all of their responsibilities without losing focus. They must be able to communicate clearly and respectfully with their colleagues, clients, and media outlets. Their interpersonal skills enable them to connect with their audience and create impactful content for campaigns.
SEO Specialist
Developing a website that is optimized for search engine results, such as Google, is the primary job responsibility of an SEO specialist. These specialists conduct keyword research and use the data they find to improve websites and increase traffic from online searches.
They also ensure that the site is optimized for technical elements, such as website speed, indexing and crawlability. This involves using techniques like interlinking, optimizing meta tags and URLs and writing relevant content.
A good SEO Specialist is always on their toes as the search engine algorithm changes constantly. This is both exciting and frustrating for an SEO Specialist, but staying up to date with these changes is crucial for the success of a client's website.
An SEO Specialist also needs to keep up with relevant analytics to ensure that they are implementing data-driven decisions for their clients. This includes using website analytics, keyword research, and backlink analysis tools to track the effectiveness of their campaigns and keywords.
Social Media Manager
Creating and managing social media content is a vital aspect of digital marketing. A social media manager's duties may include curating content, developing a strategy, and reporting on results.
In addition, they may be responsible for collaborating with team members and reviewing posts before publishing them to the company's channels. This includes editing copy and proofreading them for grammatical errors and spelling mistakes.
A career as a social media manager is a great way to build your communication and business skills while engaging with an audience. Some candidates may gain experience through internships and volunteering, while others will need a bachelor's degree in communications or marketing to qualify for the position.
Content Writer
Content writers produce, develop, and edit written or graphic material to support a brand's marketing or advertising efforts. Typically, they write content for websites, blogs, videos, email campaigns, social media posts, infographics, and whitepapers.
As a content writer, you'll need excellent writing skills to create engaging and informative content that can help attract customers. You'll also need strong research skills to identify and use credible sources of information.
If you're interested in a career as a content writer, you can build your skills through professional courses or certifications. Look for courses that cover a range of different aspects of the field, including writing, SEO, and digital marketing.
You can also choose to specialize in a particular area of the industry, such as healthcare or technology. This will allow you to focus on a niche and gain greater attention from potential clients. You'll also be able to focus more of your time on work that you truly enjoy, which can make it easier for you to grow your business and find long-term success.